Money Manager is a Token Economy and comprehensive behavior management and behavior modification program for any classroom. Money Manager is for Elementary, Middle, High School and Special Populations.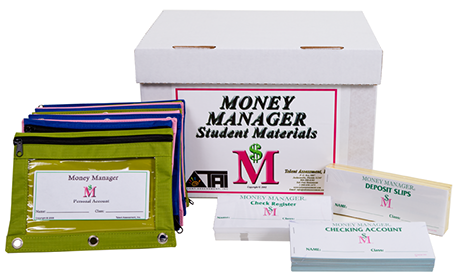 Student Materials

Money Manager provides a unique approach for integrating positive behaviors in the classroom while teaching money management skills and responsibility for one's actions.
Used in Special Education and General Education Classrooms


Elementary, Middle School, High School, Adults


Comprehensive Money Management & Behavioral Program


Often used as PAES®* student payroll, but can be integrated into any classroom
Includes cash box, Money Manager "bucks", coins, student pouches, checks, registers, deposit slips, checkbooks, etc.


Pre and Post Tests, Hundreds of Worksheets, CD and laminated originals


Store open/closed, policy signs, student contracts, training DVD and more
*Note: Money Manager and PAES® are individual programs. They work together nicely, but are two stand alone programs.
MONEY MANAGER DOCUMENT LIBRARY
PO Box 5087 Jacksonville, FL 32247
Phone: 800-634-1472 Email: info@talentassessment.com