PRACTICAL ASSESSMENT EXPLORATION SYSTEM
Convert a classroom or a community site to a work development lab where students become employees and teachers become employers. Use this lab to assess a student's competitive work potential and interest level, while simultaneously exploring various jobs, using real tools, and developing proper work behaviors in a variety of work areas.
What Is PAES® ?
PAES® IS Performance Based Assessment
PAES® is a research-based, functional skills curriculum with an embedded formative assessment of career potential and employability skills. PAES® is an assessment system which identifies:
Functional skill levels
Career interests
Aptitude for community based employment
Work behavior strengths and barriers to success
The PAES® lab will transform a classroom into a simulated work environment where individuals will learn:
Work-related problem solving skills
Proper work behavior by developing soft skills
Insight into job skills and real work settings
Understanding of their learning and training styles for future employment
PAES® labs can be found all over the country (and the world) in a variety of settings. Typically PAES® student employees range from middle school age to adult and the setting is educational to rehabilitative. Example settings that PAES® labs have been installed are:
Middle Schools to prepare students for career placement in High School programs
High School for students that are not in mainstream classes
Transition schools and facilities
Approprate work behavior development
Data collection and student reporting
An accurate description of student performance and employment potential
---
The Five Components of a PAES® Lab
---
---
The Five Components
of a PAES® Lab
---
Computer Technology
Data Entry
Word Processing
Mailing Technology
Email
Information Technology
Information Management
PowerPoint
Digital Photos
Construction / Industrial
Shop Measurement
Wrenches and Bolts
Screws and Nails
Shop Saws
Wood Projects
Metal Projects
Electrical Projects
Parts Identification
Processing / Production
Bolt Assembly
Pipe Assembly
Color Assembly
Form Design
Peg Design
Visual Perception
Thread Design
Paper Cutter
Analog Time
Digital Time
Consumer / Service
Food Measurement
Food Preperation
Kitchen Appliances
Food Service
Food Weights
Cloth Measurement
Hand Sewing
Machine Sewing
Cloth Construction
Housekeeping / Custodial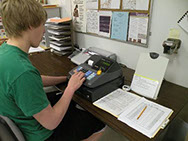 Business Marketing
Alphabetizing
Identification / Filing
Numerical Sorting
Collating
Making Change
Ten-Key Calculator
Cash Register
Typing
---
Outcomes
---
Student Outcomes
Students who successfully complete PAES® know:
what they are good at doing
where their strengths are
work-related problem solving skills
proper work behaviors needed on the job
where they are going
what careers interest them
Educational Outcomes
When a student finishes with PAES®, teachers know:
what skills a student can actually perform
if student are competitive with the real world
what type of special assistance will be needed, if any
what work behaviors students have and which ones they need to develop
how to write better transition plans as vital information is now available
---
What's Included?
---
With each PAES® Lab purchased, you will receive:
Complete Curriculum Materials
Onsite Training
Business / Marketing Unit
Consumer / Service Unit
Processing / Production Unit
Optional Computer Technology Unit
PAES® Behavior Inventory
Computer Scoring Software
Applicable Data Collection Forms