Bonus Features:
PIC Results are directly integrated with the TAP, a Vocational Aptitude Assessment.


PIC Results are easily integrated with most other assessment systems, such as WayPoint.
PIC PATHFINDER DOCUMENT LIBRARY
DIGITAL PIC SPECIAL FEATURES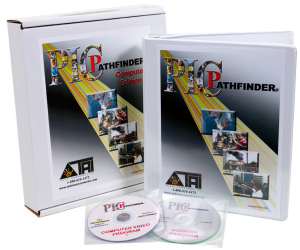 Requires NO Reading
Perfect for School-to-Career Transition
Directly Related to the D.O.T./G.O.E.
For All Students/Including Special Populations
20 Minute Assessment
1 or 100 students at a time
Students respond to live action video segments of real work situations. By rating each segment, students can then determine what Career/vocational area they like best. Assessment results are used to pinpoint areas of strong interest, dislikes, and most important, areas which they have little or no knowledge.
PIC CAREER / VOCATIONAL AREAS
Agricultural
Business-Data Processing
Business-Marketing/Sales
Business-Secretarial
Communications-Art/Graphics
Electrical/Electronics
Engineering Technology
Environmental Services
Food Services
Health Services
Protective Services
Science & Laboratory
Service-Barber/Cosmetology
Service-Personal
Industrial-Construction
Industrial-Mechanical
Industrial-Metal Trades
The Digital Pictorial Inventory of Careers is an affective domain interest assessment which requires no reading. PIC measures career interest by using Digital Quality Live Action Videos of REAL LIFE WORK scenes, instead of paper pencil tests. PIC is an excellent assessment for School-to-Career Transition Programs. PIC can be used by all students including special populations.
BASIC PIC PATHFINDER
DVD with paper/pencil response forms - teacher inputs scoring manually
PIC PATHFINDER BASIC plus COMPUTER VERSION
Computer Assessment software install for 2 computers
Plus, DVD with paper/pencil response forms
PIC Pathfinder Computer Version Only
Computer Assessment software install for 2 computers
PIC Pathfinder Site License Edition
Computer Assessment software install all computers for 1 campus

PIC Pathfinder Site License Edition Plus Basic
Computer Assessment software install all computers for 1 campus
Plus, DVD with paper/pencil response forms
All PIC Programs are Windows® based
PO Box 5087 Jacksonville, FL 32247
Phone: 800-634-1472 Email: info@talentassessment.com